Nina StrongHold and Naomi Chi! Could you ask to have two hotter and or two bustier trans babes on one bed? Both Nina StrongHold and Naomi Chi have their own websites and both love to be naked and masturbate. Nina has a smaller cock and is 100% passive. While at the same time Naomi has a big cock and is a little more active than just being versatile. So in other words these ladies cover both ranges of your desires. And if you get lucky you can have them both in the same bed.
Click the image below to see more of this set.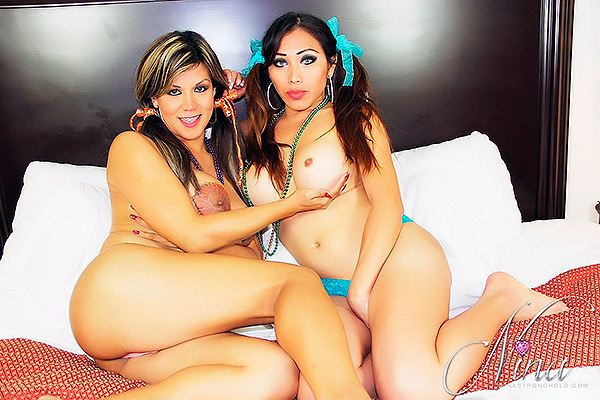 Just imagine kissing both of these beauties. Then sucking their tits. Once you move down to Naomi's cock to give it a few kisses, Nina does the same to yours. Also licking your ass while you play with Naomi's balls.
Then you lay Nina face down and slide your cock into her love hole. While you are on top of her, Naomi mounts your ass and shoves her hard big pole into you.
Click the image above to start enjoying this fantasy a little more.
Otherwise you can surf more free samples here on this site of Hot Sexy shemales.
Just to make sure you know. Both of the ladies have personal profiles on TChicks. Click here for Nina StrongHold or here for Naomi Chi