Category Archives:
Angeles Cid
When we talk about big shemale cock, there are a few gals we think of right away.  Mariana Cordoba is one, but running a close second is Angeles Cid.
Aside from the obvious, she is also a beautiful woman.  Her body is stunning and her tits practically reach out to your hands for a good groping.  Also helping matters is the fact she is known for being super horny all the time.
Getting back to her delicious and ultra large and thick cock.  Words cannot describe correctly how amazing her phallus truly is. Sucking on her would be a feat in itself, but think about the possibilities.  I've seen her fuck a few gals and trannies.  Their asses where stretched to the limit to say the least.  I doubt she's one you take on as a virgin….lol
I have not mentioned her cumshots either have I?  She can blow with the best of them.  Normally shemales have trouble shooting decent loads, but that is not an issue for Angeles thank goodness.
I know by now you are intrigued.  You should be if you are a true tranny lover like the rest of us.  Take a gander at her site and I guarantee you'll be hooked for life!
This is a treat that I came across today while spending time gawking through the site for Taniaq.  She and her good galpal Angeles Cid having a little fun with the stripper pole.  Now who wouldn't just love to get sandwiched between those two beauties?  God knows I would!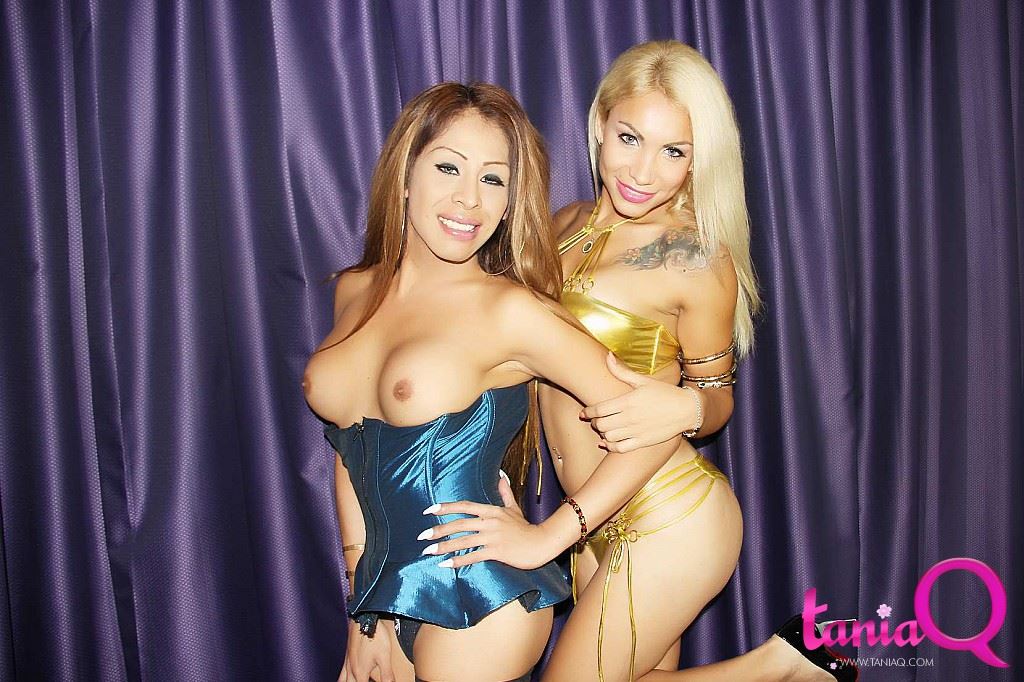 Both have beautiful bodies with firm, round tits. Angeles has a amazingly big cock, and Tania is not that far behind.  Both can make any asshole strain with anticipation that's for sure.  Both take it as well as they dish it out too.  These two shemale babes will have you rock hard in no time!