Monthly Archives:
February 2014
Pretty Asian Ladyboy looking all innocent in her pretty pink polkadot bikini.  Truth is she's a slutty little tranny who loves spreading her legs wide and showing off her delicate shecock
Doesn't she look so innocent?
Showing what a little slut she can be.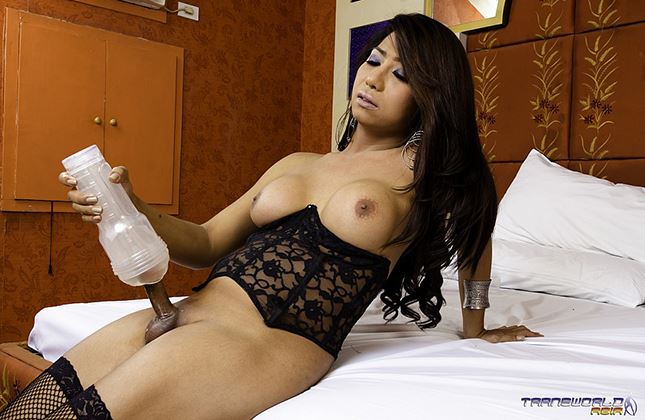 Click on image for free tour of website
We bought Sheree a new Fleshlight for this shoot. We told her to pretend we were not there and to go be natural.  That's easier said than done with so many people around as I'm sure you can understand.  I told everyone to leave so it was just Sheree and I in the room.  She quickly relaxed and soon our cute busty Asian tranny had her engorged shecock lubed up and the Fleshlight was moving up and down the length of her shaft in smooth rythmic strokes.  I have to admit to getting extremely hard myself as she laid back and played with her big tranny tits while stroking her cock in perfect rhythm   Her eyes were closed and her breathing quickened and I could tell she was close.  Her gorgeous body arched and she slammed that tool like a jack hammer on her cock letting out a very primal cry of orgasm.  She bucked and groaned for well over a minute while I snapped shots and shot film.  Was easily one of the most erotic shoots I have done in some time.
Sheree's Full Scene Can Be Found At Transworldasia.com